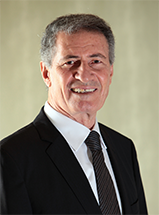 Dear handball friends
Welcome to the first-ever IHF Women's Super Globe – China 2019.
The number 9 is auspicious in traditional Chinese culture and that is true when it comes to handball with the populous Asian nation having a history of hosting top-level women's events in years ending with the number.
It has been 20 years since China hosted the 1999 IHF Women's Junior World Championship and 10 years since six cities in Jiangsu hosted the 2009 IHF Women's World Championship.
One of those cities was Wuxi, and the sports hall used 10 years ago now has the honour of hosting the first-ever IHF Women's Super Globe – in 2019.
Current club champions and representatives from different continents as well as two club teams representing the host nation China were eligible to compete and make history in this club championship which is a huge step forward for the women's game worldwide.
Back in 1997 the first IHF Men's Super Globe was held and since then it has gone on to become an important competition in the global handball calendar. It is a medal that every player wants to add to their collection, and I am certain that the IHF Women's Super Globe will replicate that success. I am also certain that the conditions the players and fans will find in China will be of the highest standard.
In recent years the Chinese Handball Association (CHA) has propelled itself forward with our sport thanks to the leadership and vision of their President, Tao Wang, along with the support of Chinese government and the successful partnership with the IHF China Working Group as part of the IHF 'New Markets' Project.
In 2015 the first IHF Academy was founded in Shanghai and a year later another one was founded in Beijing, both with the goal of promoting and developing handball. Since then the IHF, CHA and Chinese government officials have met regularly to discuss and execute long and short-term plans.
Even in the past three months the success of the project is clear: over 300 Handball@School participants in eight provinces obtained their IHF D Licence, the CHA Men's Super League was launched, and the Chinese women's beach handball team won their first-ever Asian championship, held in Shandong Province.
In September Chuzhou will host the Asian Women's qualification event for the Tokyo 2020 Olympic Games and with more high-profile events planned in the future China's commitment to women's handball and the sport in general is clear.
Here in the present, and on behalf of the whole handball family, who will be watching this debut event with real interest, I would like to wish all the participating teams the best of luck at the IHF Women's Super Globe and a good time ahead with matches played in the spirit of fair play.
May the best team win!

Dr Hassan Moustafa
IHF President